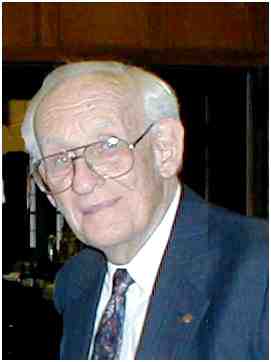 JAY WILEY
(Eulogy, Tuesday, March 1, 2005, Lafayette Rotary Club)
I first came to know Jay Wiley as a fellow Rotarian, through our mutual interest in live theater, as a member of Parlor Club, and in recent years as a close neighbor at Westminster Village. Some of you have known him longer than the three decades he was my friend; no one respected him any more highly than I. Father Ed Tourangeau at Jay's service at St. John's Episcopal Thursday, began his homily with these words: "I liked Jay Wiley." Father Ed, I liked Jay Wiley. We all liked Jay Wiley.
I thought I knew him well. Yet, this past week, I read through some 20 pages from his Purdue dossier shared with me by Martha and Al Chiscon, his regular Rotary luncheon table partners, and I realized there was much he had crowded into his full life that our friendship had not penetrated. As I reflected on his accomplishments in academe, government service, his numerous honors, his considerable writings, my conviction was solidified that indeed here was the epitome of a man who hungered and thirsted after wisdom. In recent years, he described himself as "a North Dakota farm boy," although he was born in Minnesota, graduated from high school in Wisconsin, received both a bachelor's and master's from Lawrence College, served in the Navy during World War II, earned a doctorate from the University of Illinois, and was for 2 score and four years an economics professor at Purdue, the institution which also granted him an honorary doctorate and emeritus status in retirement. He was married to his beloved Eleanor for 58 years. Their son, Jay, a resident of California, has been his Father's guest at this club several times.
Jay and Eleanor traveled extensively abroad and any gathering was enhanced by their presence. He was energized by travel to foreign countries. He and Eleanor visited London 15 times. I cannot conceive of any gathering, regardless of the participants' wealth, or titles, or stature, intimidating Jay and his Eleanor. In fact, it is more likely 15 minutes after meeting him, heads of governments and corporate CEO's would be asking, Dr. Wiley, what do you think?"
When he was granted an honorary doctorate from Purdue in 1982, then Dean Dennis Weidenaar and a member of this club, noted Jay's career had spanned seven decades of involvement with the Krannert School and Purdue. He played a leading role in developing the Krannert School of Management, Dennis noted.
For many years this club eagerly anticipated each January Jay Wiley's annual program on the economic outlook for the coming year. As I recall, he usually cautioned us, "the stock market will change." Only about a dozen members of this club have been Rotarians longer than Jay who joined March 23, 1966.
His interest in Rotary never waned. These past few years we often rode home from Rotary together, his post-meeting observations were more entertaining and more en lightening than the program. He continued to sponsor new members into this club, most recent being Sandy Daniel. His attendance record shamed most of us. Yes, he was a Paul Harris Fellow with Rotary International and a Golden Service donor for the Lafayette, Rotary Foundation. Whenever he spoke, people listened. He attracted people who were always interested in his "take" on what was going on in his community, his state and the world. He heeded Emerson's warning: "A foolish consistency is the hobgoblin of little minds."
During his years as a floor leader at Westminster, the Wiley wit stayed sharp and pungent until the end. He presided over the February floor meeting and wrote in his report, "Following reports from standing committee representatives, there was no old business, no new business, and no pertinent - or impertinent - observations were made."
In addition to the many honors, accolades and commendations he received both in this country and abroad for his acumen in economics, he continued to serve the arts. He accepted an invitation from Lorna Myers, the director of Convocations and a former member of this club, to devise and write what he called "working rules" for the Friends of Convocations.
On November 19 before a Civic Theater dinner audience honoring the Lifetime Achievement Award honorees, this was said: "What an elevated standard was established when Jay Wiley became Civic's first Lifetime Achievement Award designee. Jay, Purdue sage, wise confidant, witty, profound, eloquent. The poet Longfellow put it this way: "Ah, how good it feels the hand of an old friend." Jay, ah, how good it always felt--the hand of an old friend.
With his retirement from Purdue, he was invited to become a board member of Civic Theater. How much our board benefited from this astute master of economics, this lover of theater who had frequented productions in Canada, New York, Chicago and London. Typical Jay - even the week before his death he was continuing to thank me for initiating his seat on the Civic board. Jay had it wrong - it was the whole Lafayette community - university and town - who owe him lasting gratitude.
Although I wanted to be more like Jay in many ways, we debated vigorously about politics, as he, a dedicated Democrat, tried valiantly -- and sometimes successfully--to help this conservative businessman see what to him were more enlightened political points of view. This proud economist readily admitted he was a "numbers" man. At Westminster, he delighted in such activities as estimating how many eligible women, after married women were excluded, there remained for every available single man. At one time, his computations figured the ratio was 15 to 1.
Author James Hilton's classic, "Goodbye, Mr. Chips" is an endearing book about a much loved teacher in a British boys boarding school in the late 19th century. For many of us who so admired this Purdue professor of 44 years, Jay Wiley - a gentleman, a scholar, always helpful to students, principled, honest - friends and colleagues insisted he was the ultimate personification of the American" Mr. Chips" and the model of what a professor ought to be. It is appropriate, I feel, that he spent the last hours of his almost 92 years laughing heartily through a performance at Civic Theater.
Shakespeare wrote, "The play is done; the curtain drops." The earthly "curtain" dropped for Jay on a recent Sunday evening. All of us who knew him are complimented he found room to include us under his huge umbrella of friendship.
Lest we forget. Let us never forget Jay Wiley.
--Jim Hanks